Carpet Burns
Before
After
Commercial Carpet Repairs
Before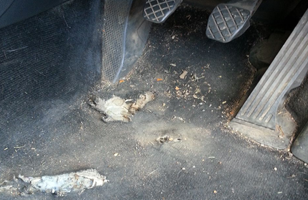 After
Pet Damage
Before
After
Carpet Surgeon Saves the Day Again with Mishap Home Cleaning Solution
Rug Doctors and external hire home cleaning agents may seem like a cheaper alternative to a hired carpet specialist, however, in the long run the latter is the most cost effective way to get the job you required done, properly!
Our friendly, family run business has been dealing with the soft flooring industry for over 30 years and in this time we have witnessed one carpet disaster to another. Statistically, 9/10 calls we get are from people using home solutions and a well-known carpet cleaning hire machine, which actually leave their carpets in a worst state than they were originally.
The most common problem we see from these types of calls is the shrinking of carpet/ soft flooring. This happens when the 'do it yourself', machines are not operated properly and leave disastrous and sometimes costly results.
This happened to one local public house in Lichfield. The business was recently going under refurbishment. To keep cost down they hired a well-known carpet cleaner, however, as stated this didn't operate properly and shrunk one of the carpets, forcing them to call a local carpet cleaners and resulted in them never getting the shrunken carpet fixed. Replacing the shrunken carpet and losing the initial money paid for the hired machine.
'My Carpets Have Shrunk!' Do not despair.
If you find yourself in a situation like this whether it is for commercial or domestic use there are other options you have a part from tossing the carpet and purchasing a new one. Shrunken carpets can nine times out of ten be fixed with the method of stretching them back. This is a service we offer and we will be happy to help you with.
If you need a carpet stretching due to a bad experience with a home carpet solution or for any of your commercial or domestic soft flooring needs get in touch today, and The Carpet Surgeon can come to your rescue. If you intend to keep your carpets full size this year, contact Paul at Carpet Surgeon on: 01827 261782 or email paul@carpetsurgeon.co.uk. Carpet Surgeon doesn't clean the carpets, but we can always recommend an established local carpet cleaner, Cathedral ChemDry.