Carpet Burns
Before
After
Commercial Carpet Repairs
Before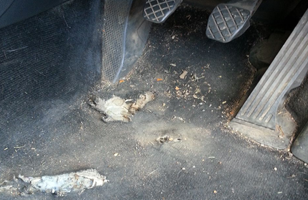 After
Pet Damage
Before
After
Carpet Surgeon; On Location in Lichfield
Famous photographer Patrick Lichfield had an interesting photoshoot back in the 90s. British designer Anthony Price designed four dresses made from carpet. The Earl of Lichfield photographed the ball gowns for the campaign entitled, 'Some things in life wear better than others'.
Unfortunately, the same is true of carpets laid in the traditional way - on floors.
Some carpets wear better than others. Some areas of your carpet will wear better than others. But what can be done about it?
If you had an expensive designer gown or suit with a little bit of damage resulting from some over enthusiastic partying would you chuck the outfit out? Probably not. You'd look for a talented seamstress to do some clever repair work and invisible stitches to make it look like new again.
Most of us spend far more on purchasing a carpet than even the most expensive item of clothing in our wardrobe so you'll be pleased to learn that Lichfield has a talented 'carpet seamstress', the Carpet Surgeon Lichfield.
Carpet Repair in Lichfield
Just because your carpet may be showing signs of wear or has been damaged doesn't mean that it's time to recycle it. Lichfield Carpet Surgeon are experts at making invisible repairs to your carpet making them look like new again.
The carpet repair Lichfield service includes repairing: snags, tears or holes in your carpet; burns from cigarettes, hot coals, your iron or hair straighteners; lifting seams that might be looking fluffy; pilling carpet; damage caused by pets; dents left by heavy furniture or indelible stains that you've tried everything to remove. Basically any problem or issue that is causing your carpet to look anything other than its best can be assessed by Carpet Surgeon. In almost all cases an inexpensive, invisible repair will have it looking like new again.
Experts in their Field
The carpet repair talents of Carpet Surgeon have been honed through 30 years of experience, building a trusted reputation of delivering a quality, cost effective service of carpet repair in Lichfield.
A seamstress will use a variety of methods and tools from their workbox. They might use fine needles and invisible thread, bondaweb or secret techniques learned only through experience. Similarly, Carpet Surgeon's Lichfield carpet repair service uses the expert knowledge and the tools for the job to offer a solution for all types of carpet repair. From micro-shearing to re-tufting, re-stretching to making invisible patch repairs. All work can be done on site without inconveniencing you.
Photoshoot Results
Using the Lichfield carpet repair services of Carpet Surgeon will mean that you are able to keep the carpet that you love so much which matches everything else in your room. It will also save you the vast expense of buying a new carpet or making an unnecessary insurance claim (assuming the damage would even be covered).
Though it is true that some things wear better than others, with Carpet Surgeon's Lichfield carpet repair you can guarantee that you will have a carpet worthy of a photoshoot.
Take a look at Carpet Surgeon's gallery of repairs here. For an affordable quotation for your carpet repair call your local Lichfield Carpet Surgeon on 01827 261 782.