Carpet Burns
Before
After
Commercial Carpet Repairs
Before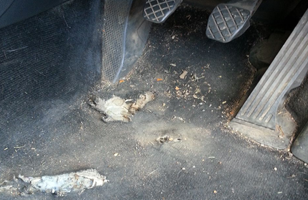 After
Pet Damage
Before
After
Carpet Surgeon gets rid of pet damage and Tennant gets her deposit back!
Those of us who rent know just how hard it is to find a rented property that will allow pets, but when our pets are a part of our family it's hard to let them go. And even when you do find a landlord that will allow you to have pets in your house, it takes weeks before you move in to negotiate a higher deposit scheme to keep the landlords peace of mind surrounding the pets sharing the home.
Recently we were contacted by a customer in Telford who found us using a Google search. The tenant was worried regarding some damage on the landing carpet which had been caused by the family's loving pet! This house was rented and the customer was worried that they wouldn't be refunded the whole deposit from the landlord if this damage wasn't fixed before the landlord next came to visit at the end of their contract.
For this job we had to patch the damaged carpet with similar carpet from under the stairs cupboard. Patching involves lifting and finding a new piece of carpet sourced from somewhere in the house that is the same colour as the carpet which has been damaged. The damaged piece of carpet is then removed and the lifted piece is stitched in with the uttermost care to reveal a virtually new carpet. We take special care to make sure that patching is not obvious, and this is a lot less expensive than giving your landlord a whole house deposit or forking out for a new carpet.
Don't despair, we repair!
Our client was completely over the moon and couldn't believe the finished result!
If your carpet is damaged, no matter how the incident happened, Carpet Surgeon are able to provide a solution from re-tufting small sections, seamlessly patching large areas or even fitting new carpet; all that's left for you to do is arrange a time for the repair and relax knowing your carpet is the capable hands of skilled professionals who have years of experience and knowledge! Call us today on tel: 01827 261782 or mob: 0789 999 2424.