Carpet Burns
Before
After
Commercial Carpet Repairs
Before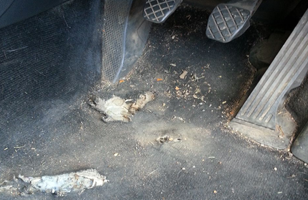 After
Pet Damage
Before
After
Carpet Repair in Birmingham and Redditch
No matter how long ago you had your carpet fitted, sometimes the carpet will get wrinkles, and other natural wear and tear that will make the soft flooring look a little less than welcoming when visitors come into your home.
You may be thinking that due to you only just having purchased the carpet, you shouldn't have to fork out a lot of expense for a brand-new soft flooring again, and you're now exploring other options. That's we're we come in! Your friendly, family run carpet repair company for Birmingham and Redditch.
Here at Carpet Surgeon we repair carpets that may have otherwise been tossed out – which is a costly process in itself having to be ripped up and disposed of, and then replaced. Instead of ripping up and throwing out, why not look to get your carpet repaired?
Here at Carpet Surgeon, we understand that some carpets accentuate your home in just the right way that it doesn't seem right to get rid of them when they are victim to excessive foot traffic, heat damaged, pet damaged and need repairing.
All of our trained and experience staff can transform any worn, torn or threadbare carpet back to its former glory. Even carpet patching we can make look seamless and subtle.
Common causes for repair we get called out for that you may need in Birmingham and Redditch:
Carpet Stretching: is a common form of repair that we offer as a part of our services. It is typically employed when flooring is starting to ripple or bunch up in the home.
Carpet Patching: Some carpets, no matter how often you clean them, stains won't budge, or a piece of carpet has been burnt with hair straighteners or a hot iron. If this is the case to disguise the damage we would remove a piece of carpet and fit in a piece of the same carpet to get rid of the damage.
Carpet Micro Shearing: Micro Shearing is like a face-lift for your soft flooring! It instantly improves the look of any carpet in your home by leveling off all of the fabric.
If you need carpet repair services in and around Birmingham or for any of your commercial or domestic soft flooring needs get in touch today, and The Carpet Surgeon can come to your rescue. Contact Paul at Carpet Surgeon on: 01827 261782 or email paul@carpetsurgeon.co.uk.