Carpet Burns
Before
After
Commercial Carpet Repairs
Before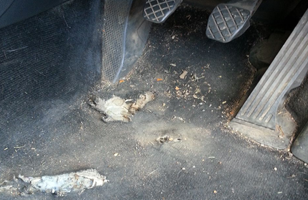 After
Pet Damage
Before
After
Carpet fitting in Tamworth! First time, every time!
We know how important it is for you to have a professional, get-it-right first time and every time service. When you call us for carpet fitting services this is exactly what you receive. We're extremely proud of our client relationships so much so that this month we have just celebrated our 20th anniversary with one of our clients in the Tamworth area that won't use anybody else- and neither will their friends and family.

Recently, a lot of our clients have been faced with the challenge of carpet rippling. You should always make sure you use a professional carpet fitting company to minimise the risk of carpet 'rippling' which is a direct effect of poor carpet fitting.
The perfect fit for carpet
Rippling is something that can appear in the carpet and many carpet cleaners face every time they come to vacuum their soft flooring. You need to make sure that your carpet fitter is highly experienced when choosing the right carpet fitting company and this will minimise the chance of rippling. We often see rippling when we come to repairing and stretching carpets.
Rippling happens because sometimes when the underlay is too think underneath the carpet, the soft flooring rises too much above the level of the gripper and the carpet slips and becomes un-stretched meaning that the carpet will slip off and eventually create ripples. It could also be due to the carpet not being laid tightly enough when they have been placed which is why carpets should always be allowed to get used to the environment of the room it is going to be laid in to relax prior to stretching.
Rippling also happens if the carpets have been deep cleaned so you shouldn't worry too much if your carpet is rippling post clean as once the carpet is dry this lets the fibres go back to their natural position.
Here's some carpet fitting work in Tamworth that we mentioned last week:
After
Before
If you need carpet fitting services in and around Tamworth or for any of your commercial or domestic soft flooring needs get in touch today, and The Carpet Surgeon can come to your rescue. Contact Paul at Carpet Surgeon on: 01827 261782 or email paul@carpetsurgeon.co.uk.