Carpet Burns
Before
After
Commercial Carpet Repairs
Before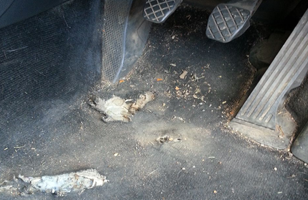 After
Pet Damage
Before
After
Carpet care in your home – looking after your carpet
Whether you have an Axminster or Wilton, tufted, twist piled or looped carpet. All carpets require care and maintenance to help extend their lives. Initially, this involves cleaning, whether yourself do it yourself or employ a company to do a deep clean.
Buying new carpets are a great expense but a good investment. Carpet Surgeon has some advice on how to keep your carpets as good as new.
Pet damage
As much as we love our four-legged friends, they all cause unintentional (most of it) damage to our carpets. This could be in the form of stains and ground in dirt from what they carry on their paws and fur. We would recommend vacuuming daily for the first few weeks if your carpet is new, then twice a week to lift any dirt, dander, and bacteria.
Sometimes, unfortunately, damage can run a lot deeper with lasting effects. If your furbabies love to dig up or scratch, you may see some significant damage to your carpet. Before you panic and grab for the new carpet brochures, give Carpet Surgeon a call. We are experts in carpet repair. With our motto, "Don't despair, we can repair." Our friendly experts will have your carpet looking like new.
Scorches and burns
As much as we are
mindful of hot items within our household that are a threat to our beautiful carpets, the risk of candles, cigarettes, and irons causing lifelong damage can make you nervous at the best of times. Even when dropped for the briefest of time, the damage can be devastating.
But these burns don't bother us at Carpet Surgeon at all. Don't be offended after reading this. We have extensive experience and feedback from our customers on our different techniques that save them from that embarrassing and disappointing call to your content insurers who are more than happy to decline your claim. Rest assured, your carpets will look like new in no time at a cost-effective price.
Expert carpet repair near Tamworth
Carpet Surgeon is based in Tamworth, Staffordshire. The areas we cover are, Atherstone, Burton-upon-Trent, Birmingham, and Lichfield. Located at the heart of England, we have easy access to travel nationwide, taking our excellent services to Manchester, London and further afield.