Carpet Burns
Before
After
Commercial Carpet Repairs
Before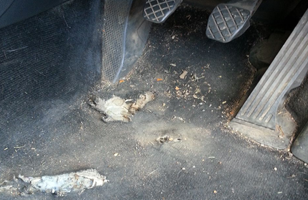 After
Pet Damage
Before
After
Is Car Carpet Replacement the Answer?
Are you looking for a solution to fixing the carpets in your car?
Have you bought yourself a used car but the carpets are worn and tatty?
Do you want to sell your car for a good price but the carpet is torn and you wonder if it can be repaired?
Perhaps you are the proud owner of a classic car and refurbishing it to pristine condition?
No matter how well a car is looked after, carpet wear and tear will eventually begin to show. Usually the first sign of wear inside a car is the carpet in the driver footwell under the pedals. But is car carpet replacement the only answer to the problem?
If the carpets in your car are letting it down, we have the solution.
The Solution for Damaged Car Carpets in the West Midlands
Car carpets are more complicated than carpets in your home.
The carpet in a car doesn't just go wall-to-wall on a flat surface. Car carpets are size specific and are usually either cut and sewn to shape for Classic Cars (pre-1960's) or moulded to shape for modern cars.
For car carpet replacement there are two options: sourcing a used carpet and refurbishing that before trying to fit it; or purchasing some generic carpet from a shop and attempting to smooth that over the car's lumps and bumps. Neither way results in the 'new' looking carpet you are after.
Because car carpet replacement is either very costly or produces very poor results most people think the only answer is to hide the damaged carpet with car mats - which just covers over the problem.
Repairing Car Carpets and Avoiding Car Carpet Replacement
Luckily for you, if you live in the West Midlands, we have the answer - Vehicle Carpet Repair by Carpet Surgeon.
Repairing the carpet in a car is the perfect solution in almost every situation and is more cost effective than paying for professional car carpet replacement.
Worn patches, holes, tears, burns, stains and frayed edges - all types of damage can all be mended and made to look like new again.
We use our expertise to match the carpet fibres and invisibly repair the damaged area. If you wish, we can sew in a matching make-and-model carpet on top of the existing one to give the car extra protection but without having mats that come loose.
Carpet Surgeon are a local, West Midlands based company with more than 30 years' experience in carpet repair. Your car carpet repair can be done at your convenience, expertly and quickly.
We have all the tools needed to make a repair that restores the carpet in your car to looking like new once again, without the cost and hassle of car carpet replacement.
Transform the look of your car - call Carpet Surgeon on 01827 261782.
We cover the whole of the West Midlands area and are happy to give you a quotation.