Carpet Burns
Before
After
Commercial Carpet Repairs
Before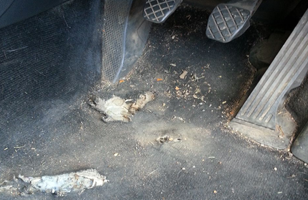 After
Pet Damage
Before
After
AN EASY WAY TO AVOID NEEDLESS (AND COSTLY) INSURANCE CLAIMS
The 21st century has seen a barely-believable increase in internet usage and as a result of this many of us now do our 'shopping' on the web. We've all seen the adverts from price comparison websites who all boldly claim to provide you with the best, cheapest quotes out there. One quote you'll often (if not always) see is home insurance packages from high-street and online-only companies offering you attractive rates in their quest to be the best value on the market.
However, in that quest many insurance companies have rejigged what the average consumer has previously taken for granted regarding insurance policies. Gone are the days when accidental damage to carpets caused by iron burns, paint/bleach spillage and pets are automatically included; these are often considered additional extras and so unless each customer pays bolt-on fees they're often not covered in areas where they once were.
That, coupled with the high excess fees (a measure often employed by insurance companies to keep the price of the policy down) means that smaller claims are often not cost-effective for those making smaller claims. That's where Carpet Surgeon really come to the fore and could prove to be of huge benefit to those seeking carpet repairs in Tamworth and the surrounding areas. There are several reasons why we urge you to consider us before contacting insurance companies to make claims for damaged carpets which we'll detail below.
REASONS TO BE CHEERFUL
As well as the aforementioned reasons (not being covered for certain types of accidental damage and large excess fees) there's the fact that anyone making a claim to an insurance company can almost certainly expect a rise in the following year's premium. So the additional cost of insuring your home coupled with the substantial excess you'll almost always have to pay before the insurance company pays out could easily make it an extremely costly claim for something small such as an iron burns, spillages or pet damages to your carpet.
Many of the carpet repairs Carpet Surgeon routinely carry out in Tamworth and the surrounding areas cost no more than policy excesses and often less. If you therefore choose to go down this route not only will you save money by not seeing an increase in your premiums the following year, you could save more money by not having to pay excess. The potential to win on two separate counts is therefore reasonable to expect.
TAKE ADVANTAGE OF THE TEAM'S EXPERTISE
The fact that the team at Carpet Surgeon are experts in carpet repair means that they can concentrate on a specific area where the carpet is damaged without the need for a replacement. This saves you time and effort as there's no need to move all of the furniture out of the room so a replacement carpet can be laid (another reason customers often don't make an insurance claim).
Carpet Surgeon are also extremely efficient in making their specialist carpet repairs meaning that there are no long delays in resolving the problems (almost all repairs are completed within a week). It therefore makes perfect sense to contact Carpet Surgeon to carry out carpet repairs in Tamworth! You'll save time, money and effort – something we could all do with more of – and the icing on the cake is that the effects of the repair make your damaged carpet look good as new and are permanent. So contact the team at Carpet Surgeon to see how they can help you save in several ways, without a price-comparison website in site!