Carpet Burns
Before
After
Commercial Carpet Repairs
Before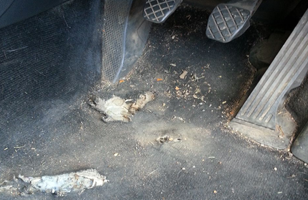 After
Pet Damage
Before
After
Avoid Carpet Disasters with Professional Carpet Repairs
If you've had a disaster with your carpet you could easily fall into one of two categories.
think that you have no choice but to replace the carpet; or,
consider attempting a DIY carpet repair
What everyone has in common, is wanting a carpet that looks new, with no signs of damage; invisible carpet repairs.
Thankfully there is another way that supersedes both of these options - professional carpet repair.
Carpet Repair or Replacement?
Is your instinct is to rip up the carpet and replace it with a new one?
A new carpet might seem ideal but it isn't always the best solution. A new carpet may be too expensive. You may not be covered on your insurance - or you want to avoid having your premiums increase.
Maybe you have matching carpets or upholstery throughout the house that would be impossible to match up.
The answer? Professional invisible carpet repairs, done at a fraction of the cost of a brand new carpet, by a convenient West Midlands based company.
Professional Carpet Repair vs D.I.Y.
Are you a have-a-go DIYer?
Perhaps you're trying to save yourself some money and think you can have a go at making a carpet repair yourself.
What do you need? Some glue, a sharp knife? Well before too long you start googling 'professional carpet repair'. Why? Because you don't want the repair to look like you've done it yourself.
In fact, you don't want it to be seen at all, you want invisible carpet repairs. And the worry is that you'll make it look worse and end up having to replace the whole carpet. An expensive carpet is just too much of a risk to take.
So take away the worry - for a professional carpet repair, leave it to Carpet Surgeon.
How to Get Invisible Carpet Repairs
Carpet Surgeon are a West Midlands company with over 30 years' experience in providing invisible carpet repairs.
Carpet Surgeon have the knowledge of different carpet backing, underlays and floor surfaces to enable them to choose the correct glue or tape for the job. They understand the different fibres used in making carpets and how different manufacturing processes are used to make a variety of carpet styles. Carpet Surgeon have all the tools required, and the expertise needed, to make perfectly invisible carpet repairs.
Whether the damage to your carpet is:
Holes
Burns
Pet damage
Water damage
Stains
Frayed edges
Frayed seams
Wear and Tear
Fitting Issues
From traditional re-tufting techniques to state-of-the-art micro-shearing, Carpet Surgeon knows the correct method needed for each particular job. You can trust Carpet Surgeon to do a professional carpet repair and leave you with a carpet that looks like new again.
Take a look at the photo-gallery of invisible carpet repairs performed by Carpet Surgeon. Read the testimonials by happy customers all over the West Midlands who know that a professional carpet repair is the solution.
Carpet Surgeon covers the whole West Midlands area. If you are unsure if your area is included or have any other questions relating to professional carpet repair call: 01827 261 782 or use the contacts page.