Carpet Burns
Before
After
Commercial Carpet Repairs
Before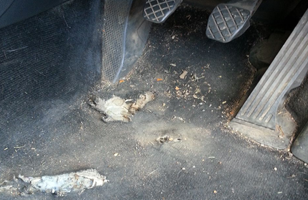 After
Pet Damage
Before
After
A Simple Way to Fix Stair Carpet Damage
Taking the brunt of relentless wear and tear, it's no surprise that our stair carpet is the first to give way to holes, cuts and frays.
Whether we're climbing, sitting or even falling down them; the carpet on our stairs has to withstand some abuse not just from us, but also from pets with a taste for destruction and children who have just discovered stair sledding.
So when that small fray we noticed a few weeks ago turns into a sizable hole, not only do we despair for our carpet, but also for our bank balance.
Let me guess… you haven't exactly prepared your finances for the surprise cost of a whole new stair carpet replacement and you're pretty sure you didn't purchase the home insurance extra for accidental damage.
So what now?
Are you doomed to put up with this unsightly blemish until you are in a better position to replace the carpet… or is there another option?
A quick and simple fix
Many people don't realise that holes in carpets can be fixed without the need to replace the lot.
This can be done by either re-tufting sections or a patch job from a donor carpet.
Yes, at the moment I know it doesn't sound quick nor simple; so let me explain how we at Carpet Surgeon1 fix damaged stairs.
Firstly we examine the carpet to determine how extensive the damage is. What type of carpet is this? Is it in an awkward area? Will it require a large repair, or is it just a small area? Does the owner have any spare cut-off sections of carpet?
These details will help us determine the best method of repair.
Then our surgical skills come into play as we expertly make an incision in the carpet, to cut around and remove the existing damage; detaching any staples carefully and preserving the underlay if this is still intact.
Depending on the method chosen, we then begin to make our repair.
If the damage covers a smaller area, then the careful process of re-tufting2 can commence by removing a few fibres from the existing carpet and carefully weaving them into the damaged area (which you can find more about here3.)
However, most stair repairs will require a patch job, possibly using existing spare carpet that has been stored elsewhere. Don't worry though – we're not going to leave it looking as obvious as the elbow patches on the jacket of your old history teacher.
Seamless Repair, Affordable Solution
Even if the hole in your stair carpet happens to be right on the edge of the step (and believe me, most of them are) we can repair it to look as good as new.
Using a precise cut section of donor carpet, we carefully position the piece corner by corner to meet the natural curve of the existing carpet, securing it into place as we go.
With specialist tools we then level off the section and trim any excess. Then for complete and seamless integration, we blend the edges into the existing carpet and tidy up the section down to the very last stray tuft.
The whole process takes less than 3 hours and leaves you not only with a fantastic newly repaired carpet (just see for yourself here4) but also a very happy bank balance.
All it takes from you is a quick phone call or email5 to us at Carpet Surgeon, and possibly the making of a cup of tea.
So if you've recently discovered a hole in your stair carpet. Don't put up with it, call the Carpet Surgeon for a skilful extraction and repair.
Links;