Carpet Burns
Before
After
Commercial Carpet Repairs
Before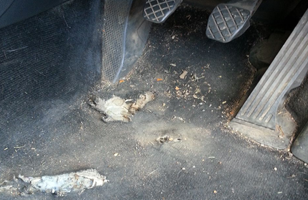 After
Pet Damage
Before
After
A Quick and Simple Solution to the Citroën DS3 Carpet Issue
As well known experts in vehicle carpet repair, we weren't really surprised to receive a call to repair a worn-out carpet inside a modern Citroën DS3 3-door hatchback.
After all, transforming damaged vehicle carpets1 is one of our specialities.
However when the calls to repair Citroën DS3 carpets continued to grow, we realised that this premature wear in Citroën DS3 vehicle carpets wasn't just a coincidence but likely a common fault experienced by many owners.
Although the premature wear and tear started gaining recognition through social media, online forums and reports from driving school instructors, it still didn't seem to be recognised by Citroën as a design fault – which for DS3 owners unfortunately meant that the only answer was to somehow repair the damage.
Thankfully here at Carpet Surgeon, we've got a quick and easy solution to the Citroën DS3 carpet problem.
Identifying Common Citroën DS3 Carpet Wear
Perhaps as a Citroën DS3 owner you have experienced these issues with worn carpet sections and have witnessed the following:
Drivers side footrest showing signs of premature wear
Sections of carpet near clutch pedal completely worn away
Areas of carpet showing polystyrene underneath
Unsightly frayed patches on curved edges of the car floor
Confusion over where it could possibly have come from
At Carpet Surgeon, we understand the frustration of suddenly finding yourself with a car that now looks dated and neglected; lowering its value and leaving you with a problem you just don't have time to sort.
So if you're in this position, then Carpet Surgeon are more than happy to provide you with a convenient and cost effective repair.
Repairing Citroën DS3 Carpet Damage – How We Do It
Having attended numerous repairs involving Citroën DS3 torn carpets we have plenty of experience identifying the cause and implementing a sturdy solution.
Here's how we repair it:
First: We travel to your location and inspect the damage. Then we take action by removing the remaining worn carpet sections carefully to avoid damaging other sections of your vehicle.
Next: We use high quality materials to rebuild and strengthen the footrest area, ensuring a sturdy base to carry out repairs and ensure a longer life for the repaired section of carpet.
Finally: Using our specialist re-patching and integration tools we skilfully repair the carpet, replacing any required sections and repairing scratches, tears and holes. All seams are smoothed and integrated with existing carpet for a flawless look.
The end result: A seamless repair is completed and free from any indication of previous damage and a car to be proud of.
So whether you are a Citroën DS3 owner or just have a vehicle that requires a carpet repair without the hassle of a total re-fit, then simply contact us at Carpet Surgeon2 and join the many happy customers with renewed and transformed vehicle carpets.
Links
1: https://www.carpetsurgeon.co.uk/where-to-go-to-repair-a-car-carpet