Carpet Burns
Before
After
Commercial Carpet Repairs
Before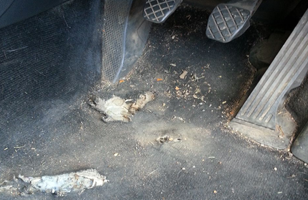 After
Pet Damage
Before
After
Artificial Lawns
Why choose artificial grass this summer?
You may have gathered that we are experts in all things carpet, but did you know that our vast experience also extends to outdoor carpets? We're talking of course about artificial grass.
We're heading into our busiest time of year for installing artificial grass and we will spend the next few months turning the patchy, overgrown gardens of Tamworth into luscious bowling green style lawns.
The market for artificial grass is growing, particularly as manufacturing techniques and the quality of the product improve – it's now often difficult to tell the difference between artificial and real grass, other than artificial grass looks much better.
At the same time our lives are getting busier and busier.
Imagine a world in which you don't have to worry about finding time to mow the lawn every week, or having to water the grass when there's a hosepipe ban, or weeding, or the invasion of the moss that's rapidly taking over your garden? Sound like a world you want to be a part of?
We can turn this dream into a reality with our artificial grass laying service.
Why choose artificial grass?
Low maintenance - The main reason a lot of people choose artificial grass is time. With our increasingly busy lives many people just don't have time for the constant mowing, watering, weeding and re-seeding your garden needs – especially if you want it to look good. Artificial gardens need nothing more than the occasional quick brush and spray.
Looks good all year round - No more feelings of guilt and dread when you notice your lawn has grown a foot in the last fortnight and looks like a meadow in comparison to next door's perfectly manicured lawn. Artificial grass looks good all year round. You don't need to worry about sun damage, shady spots, discolouration or anything. Your luscious green lawn will be the envy of your street and all you'll have to worry about is where to put the deck chair.
Reduce your water bills - Artificial grass means no more daily watering of your lawn to keep it green during dry summers. Whether this is impacting your lawn because a hosepipe ban means you can't water it, or it's impacting your water bills because it needs constant irrigation, these are problems of the past with artificial grass.
Durability - If you have areas of constant use in your garden (think of that patch of mud underneath your child's swing and slide set) artificial grass provides the perfect solution for an even covering of grass throughout your whole garden that can withstand high footfall.
Great for dogs - You may think an artificial lawn would not be suitable for dogs, but actually the opposite is true. It's easy to clean, urine soaks through and it can't be dug up. No more muddy paws traipsing through the recently-mopped kitchen.
Environmental benefits - Installing artificial grass can also have a positive impact in terms of the reduced use of pollutants such as petrol lawn mowers, pesticides and herbicides.
Why choose Carpet Surgeon for your artificial grass laying?
Installing artificial grass needs a professional touch if it's to stand the test of time. We are experts in artificial grass laying, so not matter what shape your lawn, there will be no ripples, gaps or visible joins. You choose the look you want from our selection of turfs and we take care of the rest.
The process involves removing the existing turf and preparing the surface underneath using hardcore, sand and a weed membrane. It is vital to make sure the surface is even and the drainage good before laying the artificial grass on top. Good preparation means you'll never have to weed your lawn again.
For an evergreen lawn you can be proud of, contact Carpet Surgeon or call us on 01827 261782 for a quote.